Global industry posts highest-ever annual, quarterly, and monthly sales
Published Monday, February 5, 2018 8:00 am
by Dan Rosso
WASHINGTON—Feb. 5, 2018—The Semiconductor Industry Association (SIA), representing U.S. leadership in semiconductor manufacturing, design, and research, today announced the global semiconductor industry posted sales totaling $412.2 billion in 2017, the industry's highest-ever annual sales and an increase of 21.6 percent compared to the 2016 total. Global sales for the month of December 2017 reached $38.0 billion, an increase of 22.5 percent over the December 2016 total and 0.8 percent more than the previous month's total. Fourth-quarter sales of $114.0 billion were 22.5 percent higher than the total from the fourth quarter of 2016 and 5.7 percent more than the third quarter of 2017. Global sales during the fourth quarter of 2017 and during December 2017 were the industry's highest-ever quarterly and monthly sales, respectively. All monthly sales numbers are compiled by the World Semiconductor Trade Statistics (WSTS) organization and represent a three-month moving average.
"As semiconductors have become more heavily embedded in an ever-increasing number of products – from cars to coffee makers – and nascent technologies like artificial intelligence, virtual reality, and the Internet of Things have emerged, global demand for semiconductors has increased, leading to landmark sales in 2017 and a bright outlook for the long term," said John Neuffer, SIA president and CEO. "The global market experienced across-the-board growth in 2017, with double-digit sales increases in every regional market and nearly all major product categories. We expect the market to grow more modestly in 2018."
Several semiconductor product segments stood out in 2017. Memory was the largest semiconductor category by sales with $124.0 billion in 2017, and the fastest growing, with sales increasing 61.5 percent. Within the memory category, sales of DRAM products increased 76.8 percent and sales of NAND flash products increased 47.5 percent. Logic ($102.2 billion) and micro-ICs ($63.9 billion) – a category that includes microprocessors – rounded out the top three product categories in terms of total sales. Other fast-growing product categories in 2017 included rectifiers (18.3 percent), diodes (16.4 percent), and sensors and actuators (16.2 percent). Even without sales of memory products, sales of all other products combined increased by nearly 10 percent in 2017.
Annual sales increased substantially across all regions: the Americas (35.0 percent), China (22.2 percent), Europe (17.1 percent), Asia Pacific/All Other (16.4 percent), and Japan (13.3 percent). The Americas market also led the way in growth for the month of December 2017, with sales up 41.4 percent year-to-year and 2.1 percent month-to-month. Next were Europe (20.2 percent/-1.6 percent), China (18.1 percent/1.0 percent), Asia Pacific/All Other (17.4 percent/0.2 percent), and Japan (14.0 percent/0.9 percent).
"A strong semiconductor industry is foundational to America's economic strength, national security, and global technology leadership," said Neuffer. "We urge Congress and the Trump Administration to enact polices in 2018 that promote U.S. innovation and allow American businesses to compete on a more level playing field with our counterparts overseas. We look forward to working with policymakers in the year ahead to further strengthen the semiconductor industry, the broader tech sector, and our economy."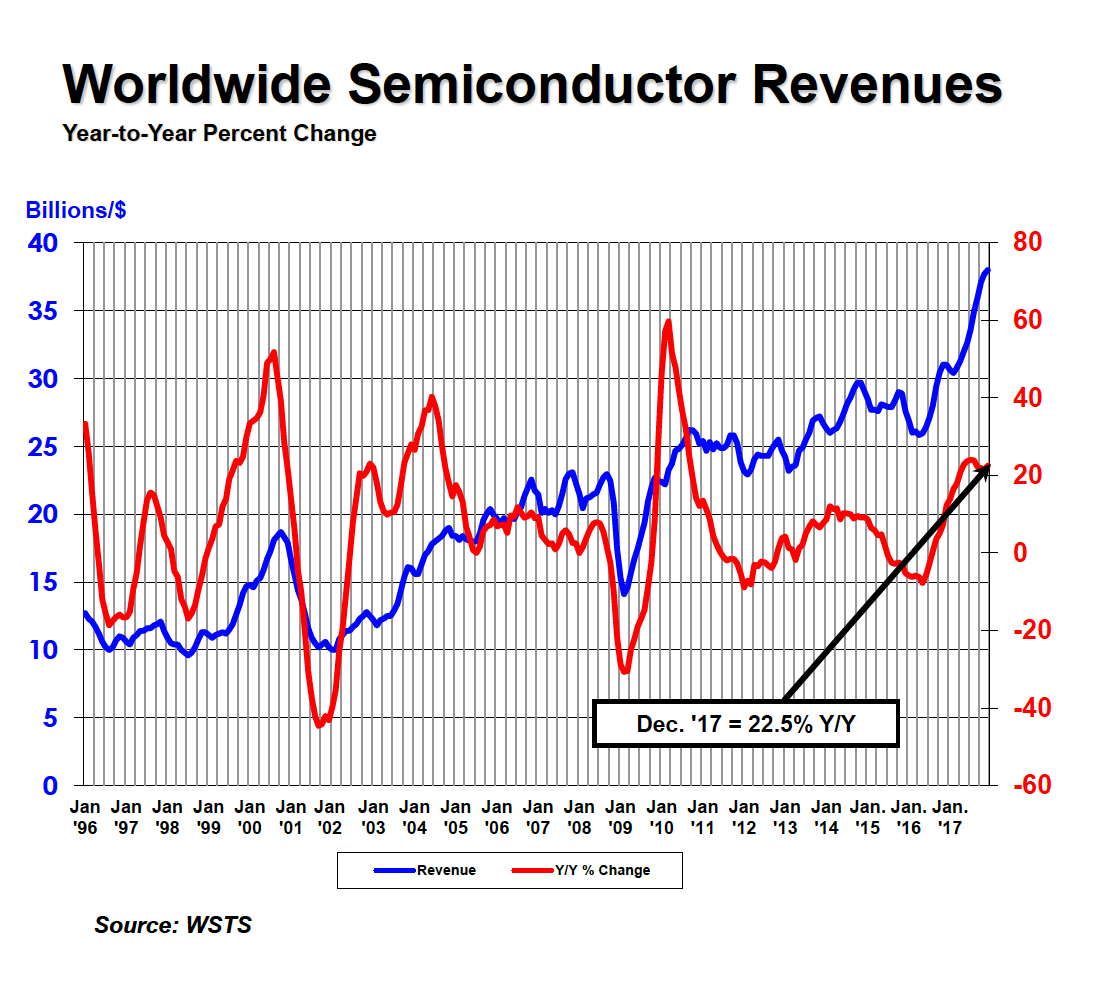 December 2017 GSR table and graph for press release(2)Source: The Semiconductor Industry Association (SIA)